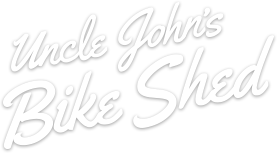 ---
Specifications
Gear ratios
The Shimano Alfine Inter 11 has a total gear range of 409% spread out over 11 gears. It does not have a gear with a 1:1 ratio. The steps between each gear are almost equal, except the lowest gear, the step is almost twice as big, so it acts as a "granny" gear for climbing steep inclines.
| | | | | | | | | | | | |
| --- | --- | --- | --- | --- | --- | --- | --- | --- | --- | --- | --- |
| Gear | 1 | 2 | 3 | 4 | 5 | 6 | 7 | 8 | 9 | 10 | 11 |
| Ratio | 0.527 | 0.681 | 0.770 | 0.878 | 0.995 | 1.134 | 1.292 | 1.462 | 1.667 | 1.888 | 2.153 |
| Step size | | 29.22% | 13.07% | 14.03% | 13.33% | 13.97% | 13.93% | 13.16% | 14.02% | 13.26% | 14.04% |
| Range | 100% | 129% | 146% | 167% | 188% | 215% | 245% | 277% | 316% | 358% | 409% |
| Cable pull (mm) | 5.1 | 5.2 | 4.8 | 5.3 | 4.8 | 6.6 | 5.3 | 4.7 | 5.2 | 5.9 | |
Variants
The Shimano Alfine Inter 11 comes in different versions:
Silver/black
32/36 spoke holes
Mechanical/Di2 electronic shifting
Revision
| Shimano product ID | Year | Description |
| --- | --- | --- |
| SG-700 | 2011 - 2017 | Mechanical shifting hub |
| SG-705 | 2013-? | Electronic (Di2) shifting hub |
| SG-7001 | 2017 - ? | Juy 2017 revision |
| SG-S7001-11 | 2018 - ? | Mechanical shifting hub for Shimano eSteps electrical assist, 2018 revision |
| SG-S7051-11 | 2018 - ? | Electronic (Di2) shifting hub for Shimano eSteps electrical assist, 2018 revision |
Revisions
In July 2017 Shimano released an updated parts list (PDF). The document contains a list of parts for the SG-7001 hub, which is the first revision of the hub after the initial release of the SG-700 in 2010.
The document shows a list of all the parts. Most parts the same (indicated with letter "A" in right column). The following two parts are marked with a "B" meaning that the parts are interchangeable but differ in materials, appearance, finish, size, etc.
Two parts Internal Assembly (Axle Length 187 mm)
Driver Unit
At this point it is not known how these parts exactly differ from the original. If you have any information about this revision, please contact the author.
Shimano Alfine Inter 11 Di2 for Electronic Shifting
In 2013 Shimano released a new line of Shimano Alfine Inter 11 hubs for electronic shifting. They have the same gears on the inside. But are distinguished by a blue line running across the hub shell. Instead of a cassette joint, the gears are moved by a electric motor unit (MU-S705) which is powered by a battery. Shifting is done using a wireless electronic shifter.
For bicycles with derailleur shifting systems the main advantage is that shifting is faster. For the internal gear hub the flexibility in shifter choice is a big advantage. You can use any style of handlebar, with the different electronic shifters that are available.
Adding Electronic Shifting to a Mechanical Hub
If you already own a bicycle with a Shimano Alfine hub (SG-700) and want to know if it is possible to upgrade to electronic shifting there is bad news: According to Shimano it is not possible to use the motor unit. The reason is that the hub (SG-700) contains a return spring. When shifting down, the shifter pulls the cable and tensions the spring. When shifting up cable tension is released and the spring pushes the hub in the right gear. With the Di2 hub (SG-705) the motor unit turns into different direction for shifting up and down. It would require more power for the motor to shift down and tension the spring.
Electronic Di2 Shifters
In 2014 Shimano released the Di2 version of the Alfine 11 hub, which is Shimano's electronic shifting system which comes with a wireless electronic shifter (SW-S705) with push buttons. The advantage of this shifter is that can be mounted on any kind of handlebar, including drop bars.
---
Compatibility
Compatible Frames
The Shimano Alfine 11 requires the rear fork end to be spaced 135 mm. It can be used with horizontal or vertical fork ends. When using it with vertical fork ends you need some way to adjust the chain tension. If the frame does not have an adjustable drop out or eccentric bottom bracket you can can use a cable tensioner. Shimano sells a Alfine branded chain tensioner (S510), but others also exist.
Modifying an Alfine Inter 11 hub to fit a narrow frame
The hub shell of the Alfine 11 hub is narrow enough to fit in a 120 mm fork end, one reader modified his hub to fit a Specialized Langster track bicycle with a 120 mm wide horizontal fork end. Together with a cycling enthusiast at an local engineering shop, using trail and error, they were able to make the hub fit without modifying the frame.
The process involved grinding down the original Shimano parts using CNC machinery. The left outer cone nut was removed completely, the sides of the right outer cone nut were ground down to make it flat enough to fit through the frame. The cone nuts are part #25 in the internals schematic.
The flat sides of the axle were extended to go further towards the middle of the axle. A custom made two pronged washer is added to the outside of the fork on the left side, this replaces the original non-turn washer. Another nut is added before the original dome nuts at the axle ends.
Compatible Mechanical Shifters
When introduced there was only a trigger shifter, since then several other options have become available, but options remain limited.
For a shifter to work with the Alfine Inter 11 it needs to be indexed with 11 steps. The amount of cable pull varies slightly per gear. A shifter needs to be specifically designed for this hub to work. A non-indexed (friction) shifter is not recommended as you need a very specific amount of cable pull in order not to damage the gear selection pawls inside the hub.
The shifter outer cable needs to have an outer diamater of 4.0 mm. The inner cable is 1.2 mm in diameter with a drum shaped ending, an 1.1 mm inner cable will also work (even better according to some).
Personally I like the trigger shifter a lot more than I initially thought I would. It works very quickly and is easier than a twist shifter as it only requires the flick of a finger, as opposed to moving your whole hand. This makes it easy to shift with cold/wet hands and gloves.
Third Party Mechanical Shifters
Microshift SB-N110
The Microshift SB-N110 is a shifter for dropbars with integrated brake lever. It is sold in a set with a matching (left side) brake lever. It looks a lot like the discontinued Versa Road Shifter. The reason is that these are essentially the same product. Microshift manufactured most of the shifter for Versa. When Versa discontinued the product Microshift started selling the complete shifter themselves.
FYI, the main parts of Versa for Alfine 11 shifter was supplied by microSHIFT, Versa modified some parts and to have the shifter compatible with Alfine 11 which we didn't provide. Unfortunately Versa stopped the supplying of this product in last year, but we decided to keep on this version after some talk with customers. The main mechanism is the same, we just have a minor change in some details.

Regards
microSHIFT
Source: Topic Shimano Alfine 11 - Longer term reliability at Cycling UK Forums