Topeak JoeBlow Sport bicycle pump review
It sure blows!
A few years ago I purchased a floor pump for inflating bicycle tires that would work on both Prsta and Dunlup valves, since I had bicycles with both. After a while I started to realize that I had no idea what pressure I was inflating my tires at, and sometimes felt like they were too soft. Modern tires have the correct pressure range printed on the side, using them at a pressure that is below or above it increases the risk of punctures and can wear out the tire faster.
After trying the Topeak JoeBlow Sports with it's built in manometer I was very impressed. While my old pump would require a lot of force after getting some air in, while I could feel it bending. Pumping with the JoeBlow felt much lighter and, and thsu I decided to purchase one.
My goal was to get a pump that can inflate the tires of any bicycle, to any pressure, can last me a long time.
Features
The biggest problem with my previous pump was that there was no way to tell the pressure of the tire. The JoeBlow sports features a Mamometer that shows the exact pressure while pumping. There is even a little indicator that you can move to the desired position, and then keep pumping until the needle moves below it. Because you don't need to stop to feel how hard the tire is with your finger you can keep pumping, and reach the correct pressure much quicker.
The pump and manometer go all the way up to 11 bar (160 psi), which is more than any bicycle tire could ever need.
The base is made out of steel and very wide, which makes the pump very sturdy, better than any other pump I have used.
The main tube is also made out of steel, which makes the pump feel solid.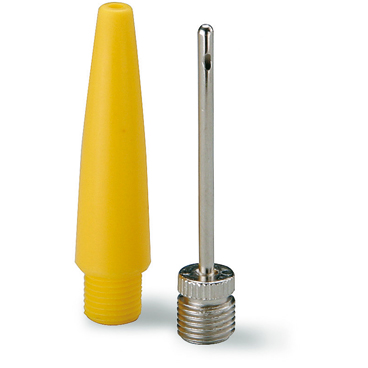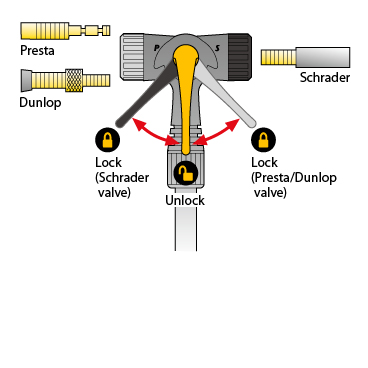 The pump has two connectors, one for Presta and Dunlop valves (gray) and one for Schrader valves (black). They are color coded, so you just need to remember which color belongs to what kind of valve.
It also comes with an adapter for inflating things like air mattresses and balls. It works okay for small volume inflatables, but anything larger than an inflatable pillow takes a lot of pumping.
Another nice thing is that Topeak sells a whole bunch of spare parts for the pump, which makes me feel reassured that I can fix it, even if some part of it breaks.
Usage
To use the pump place the head over the valve and turn the lever away from it to lock the head to the valve, as soon as you start pumping the manometer will display the current pressure.
Every stroke pumps a lot of air, so even wide "balloon" are quickly inflated to the right pressure.
Pumping feels smooth and light. It does not feel like any risk of bending or breaking anything, when applying much force.
I have found that attaching the head to Dunlop valves can be a bit finnicky, if you don't put on the head exactly right it will eithr block the air, or let it escape, but once you put it on just right it pumping is great. p>
Conclusion
I am very impressed with this pump, so far it seems to be everything one could ever need. It fits all valves and inflate tires up to the highest pressure. As a bonus it can also works on other inflatable objects and is servicable with spare parts should it ever break.
---
Alternatives
Topeak sells a whole bunch of JoeBlow floor pumps, each with their own speciality. The Sport pump is however the best selling one, as it is versatile, affordable and widely available. These are Topeak's other pumps with a short desrcription of their unique features: