Brooks Cambium C17 saddle review
My city bicycle has a saddle filled with foam and has springs in the back. After suffering from some bad saddle pain on a trip to Rotterdam, I decided I needed something different for long rides.
Trying a leather saddle
Since then I have been looking for a better bike saddle for longer trips. The following year, I used a San Marco Rolls saddle, which is a narrow saddle with a hard plastic shell, covered with a layer of foam and leather. This saddle was acceptable when wearing padded bike shorts, but after riding on it for 3 days my butt still felt kind of tender.
During this trip we got caught by some unexpected downpours. Since the Selle San Marco has a leather cover, it had to be kept dry, which, despite my best efforts, was not always possible.
For the new bicycle
My new bicycle came with a Madison Flux saddle. A fairly OK saddle for mountain biking, but not for touring. After several adjustments I was able to find a comfortable position, but it was limited to only a small area, and in the days after long rides, I would experience saddle pain while riding my city bicycle to work.
I really wanted a more comfortable saddle. Leather seemed to be the best solution, but I was not looking forward to maintaining it. When the C17 was announced, I was really exited; a saddle with the benefits of a leather saddle, without the hassle.
Brooks' first non-leather saddle
The Cambium is the first non-leather saddle sold by Brooks, which has been in the business of making saddles for over a hundred years. The Cambium has been under development for many years, and is actually not manufactured by Brooks in England, but in Italy.
For me, the Cambium came just in time. Maybe even a little bit too early, because when I was contemplating whether or not to purchase it, there were no reviews online, and I had not seen the saddle on any bicycles or in any shops.
The C17 is the rubber version of the B17, one of Brooks most popular saddles. Initially I was considering waiting for a Cambium version of the Flyer, which has a similar shape, but with springs in the back that should make it more comfortable when riding in a more upright position. However it did not look like this was happening anytime soon, so in the spring of 2014, I purchased the C17 so that I could ride it a bit before the big trips planned for the summer. Although the saddle does not have a breaking in period, like leather ones do, I find that the body also needs some time to adapt to a different saddle.
Cost
I used to think Brooks' leather saddles were expensive, with prices upwards of 90 euros. The C17 has a retail price of about 125 euros. You can buy a second hand bicycle for less than that! The justification for this is that the saddle hopefully lasts me a really long time, without maintenance and a sore bum, but only time will tell. Unlike a leather saddle, the C17 should have a better resale value since it does not permanently shape itself to the rider's anatomy.
Initial impressions
My first reaction after holding the saddle in my hands was that it felt much harder than I expected. Unlike any other non-leather saddle it's quite hard to dent with your thumbs; only in the very center of the saddle can you make an impression. Not quite what I expected from something that is marketed as a hammock for the butt.
The saddle looks quite narrow, but once a substantial weight is placed on top it widens.
It comes in two colors; light (a sort of beige) and slate (dark gray). After seeing all the fantastic product pictures on the internet, it was not as impressive in real life. It's just a saddle. I chose the slate version, as I felt it fit the color scheme of my bicycle better.
Packaging
The saddle comes packaged in a cardboard box that folds open to expose the saddle, attached to a piece of cardboard with tie wraps. The design of it all is quite nice. But since it is all just packaging that will be thrown away, I am happy it is easily recyclable.
Specifications
Manufacturer

Brooks England

Name

C17 / C17s

Material

Vulcanized rubber with canvas

Weight

415 grams / 405 grams

Length

283 mm / 265 mm

Width

162 mm

Height

152 mm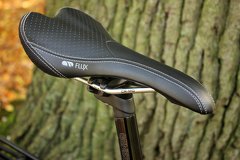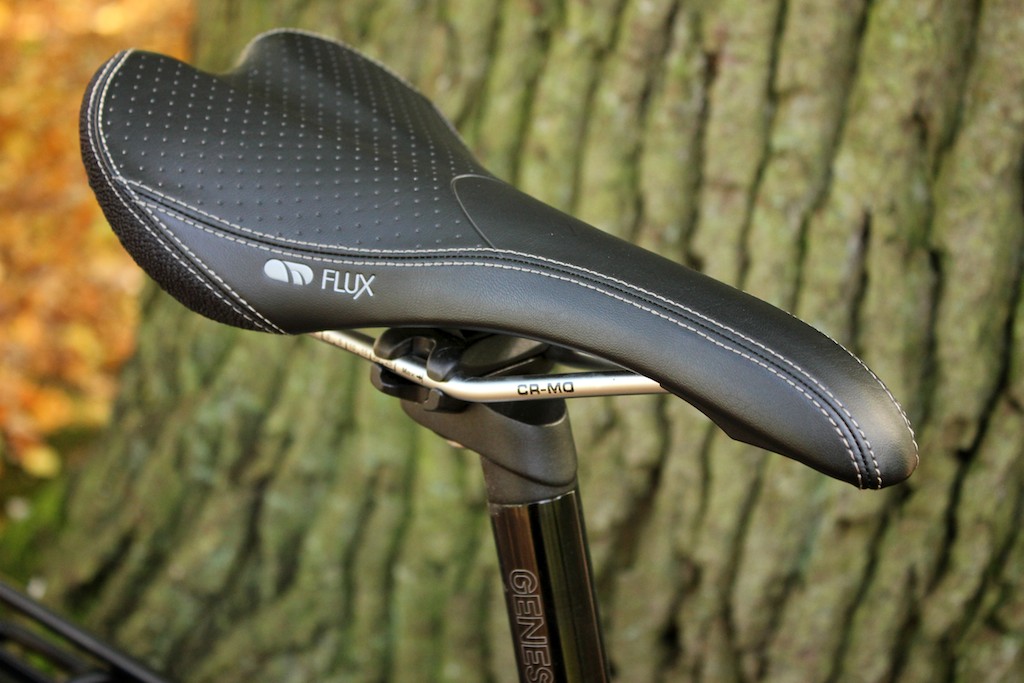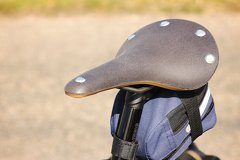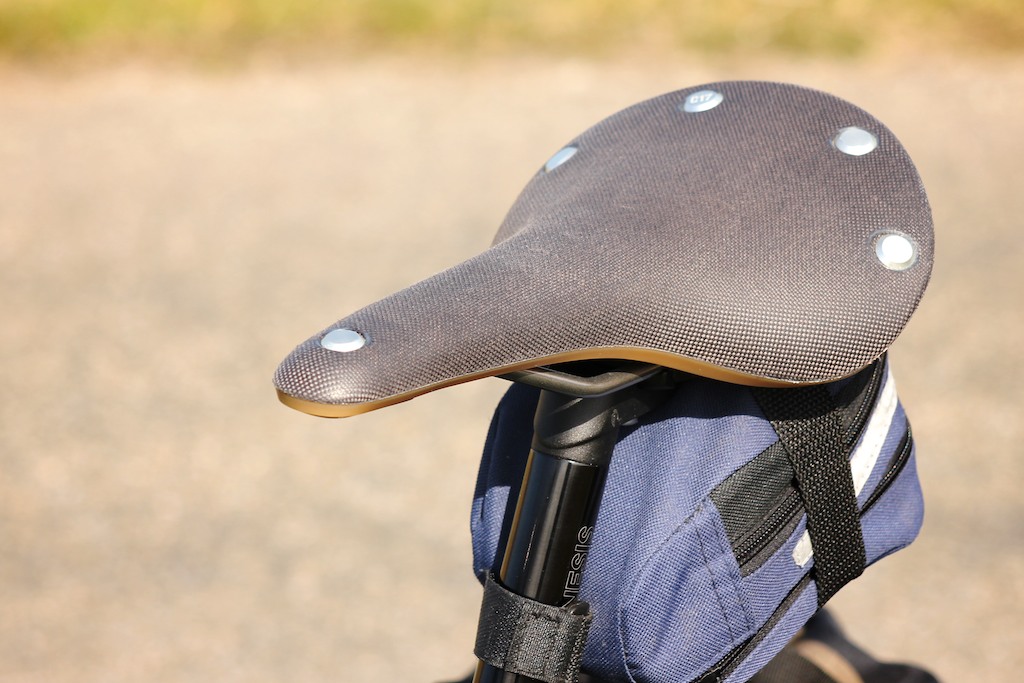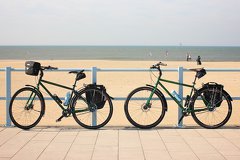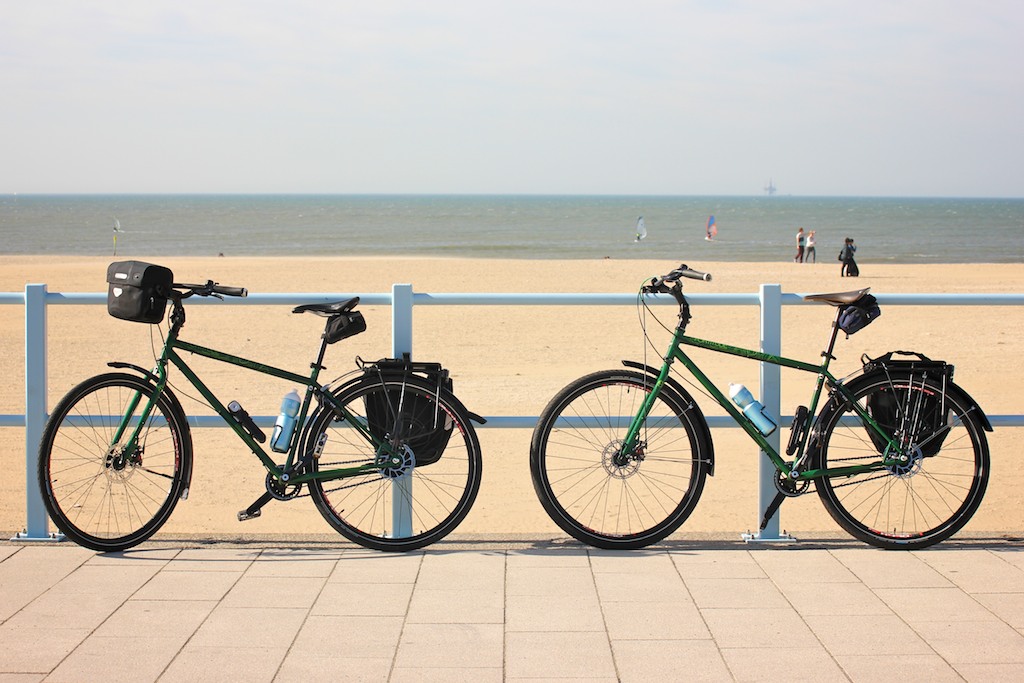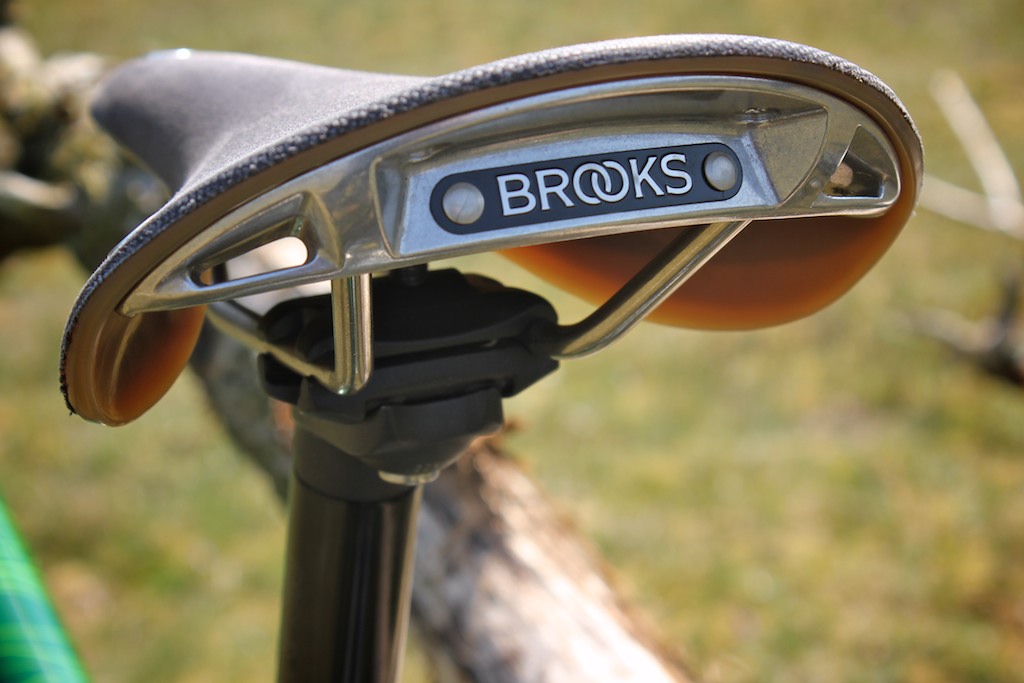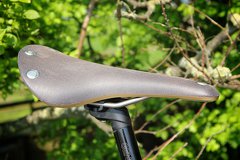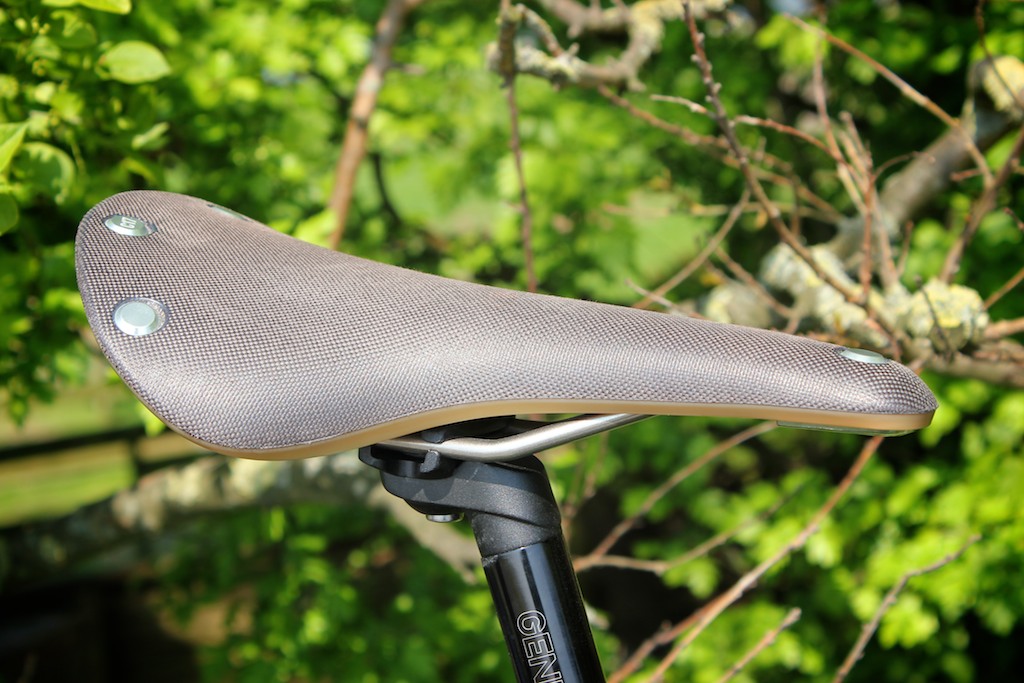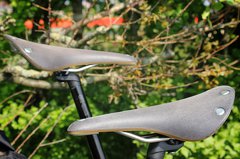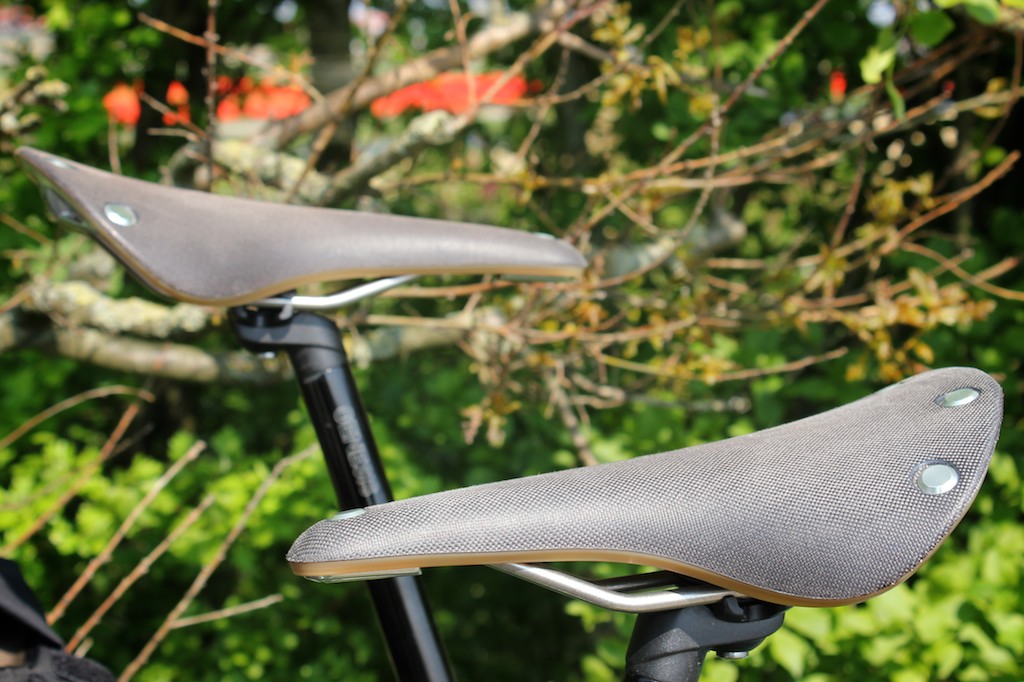 Bum experiences
First of all, these experiences are highly personal. I weigh around 65 kilos and have a tall and slender build, without much "padding" on my bottom.
First ride
The first time I sat on it I was not terribly impressed by its comfort. I was wearing padded cycling shorts underneath my pants. My first impression was that it was still quite hard, but I found that there was a greater area where one could sit comfortably. Sitting anywhere from the middle to the back of the saddle was acceptable.
The ride home was over 25 kilometers. It rained, so I was glad I didn't have a leather saddle. The comfort level was acceptable, but the saddle felt very hard.
Second ride
The second ride was a week later. While riding the bicycle with padded shorts, the saddle felt kind of hard, but I did not experience any pain that day. The next day, while riding my city bicycle to work, I felt no discomfort. On the way home, however, my bum did feel a bit tender and sore.
After this, I took several short rides without padded shorts, and decided to change the position of the saddle. I raised the stem, moved the saddle a bit further back and tilted the front slightly downward. The manual that came with the saddle instructed that for men, the front should be pointing up a bit. However, I found that with the front pointing downward, I was a lot more comfortable.
The next ride was a two-day trip, wearing padded shorts as usual. The next day, I cycled to work without padded shorts. During the trip and the days after, there was hardly any soreness. I did feel like I could not change my seating position very much, and felt somewhat constrained by that.
On a trip in April it was getting warmer and sunny. It was noticeable that after the seat had been ridden, or had been in the sun for a while it did not get warm, like some saddles do. This is quite positive.
Full day trip
A few weeks later we went on a full day trip, cycling 120 kilometers over the course of a day. The first hour I as very comfortable on the saddle with my padded shorts. After two hours I was getting a little uncomfortable and moved the seat backward a bit, which helped. Throughout the rest of the day my bum felt tender, but not really sore. The next day we went for a ride, from the start my bottom felt like I had already been on the bicycle for two hours. After this trip I decided to get new bike shorts with higher quality padding. I hope this will make a difference on longer rides.
Long term experience
After using the saddle for several months not much has changed to the comfort level. During and after my daily ride to work without padded shorts there is no noticable discomfort. When wearing padded shorts on longer rides it starts of comfortable and then turns acceptable. On long multi day trips with less than ideal roads I still experience saddle pain.
After about 6 months the color of the slate model (dark gray) has faded quite a bit, it's especially noticable compared next to a brand new saddle. Because it fades more on the part where you sit the edges are slightly darker. Personally I don't find the changing color a problem, it doesn't look bad, I can imagine some people might actually like the aged look, just like aged leather saddles are considered nicer by some.
One annoying feature of the saddle is that it seems to damage some of my pants. The rubbing causes the edges to make noticable marks on my pants, and wears out the material.
The short model
For my girlfriend's bicycle we got the shorter model, the C17s. It's exactly the same as the regular C17, with the only difference being that it is 2 centimeters shorter in front and thus slightly lighter.
Visually, the difference is hardly noticeable, even with them right next to each other. I don't understand how this helps women achieve more comfort.
My understanding of female anatomy is that, in general, they have wider "sit bones" and can benefit from a space in the middle of the saddle in order to reduce pressure on the soft tissue.
It seems that Brooks expects the Cambium C17 to be wide enough to accommodate both men and women, and expects the rider to compensate for the anatomical differences by changing the angle of the saddle to suit the individual.
Conclusion
At the time of writing, I am fairly positive about the C17. While riding, the saddle feels kind of hard, but when wearing padded shorts, it is acceptable. For me, the biggest change is in saddle pain that occurs after the ride; this seems to have been greatly reduced.